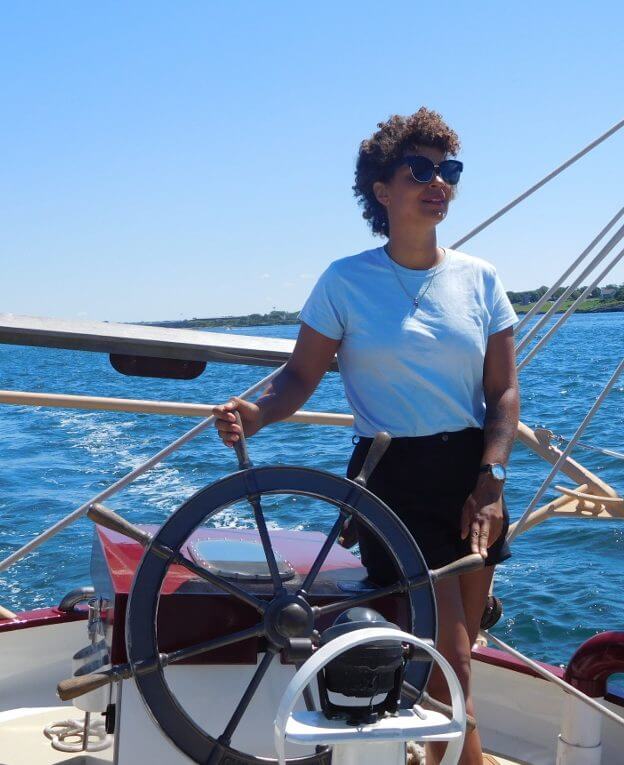 Whether you're sailing aboard one of our boats or working shoreside, hanging your hat at Sightsailing may be one of the coolest sailing jobs you'll ever have. With spectacular sailing grounds and a legendary history, Newport is considered by many to be the sailing capital of the world.  Nowhere will you find a better place to sail, or a town full of like-minded people passionate about what they do.
We invite you to consider the challenge of working in an outdoor environment as part of a team. Our positions require professionalism and commitment, yet offer fun and recreation, friendships that often last a lifetime, personal achievements, life skills and a valuable work experience.
Our success has been the direct result of great individuals who work here now and those who have worked here in the past.  Our standards are high: we want reliable, enthusiastic organized and positive team players who will represent Sightsailing and themselves well.  Great attitudes, good work ethics and friendly personalities are a must when working with the public and other employees.
Please read the job descriptions below for more detailed descriptions of our sailing jobs and if you think you may have what we're looking, please complete an online application for the respective position.  Management and office applicants should submit a resume.
Things to Consider Before Applying for our Sailing Jobs:
You should have flexible availability and be able to work weekdays, weekends and holidays.  Regardless of the job you perform, your punctuality and attendance is essential to our operation.  More details below:
Crew On Aquidneck Required Availability:
Aquidneck has the longest season and sails 7 days a week from May until the end of October.  Crew on Aquidneck typically work a full day rotating 4/3 week schedule or occasionally a 4 day/5 day schedule .  Aquidneck crew should be available to sail from May through the end of the season in late October and help before and after the season with getting the boat ready and downrigging/winterizing her.
Crew on Sightsailer Required Availability:
Sightsailer sails from Memorial Day weekend at the end of May, weekends only in June, 5 days a week in July and August, then weekends only in September.  Crew on Sightsailer sail 5 days/week and should be available from May until the end of her season in late September (weekends only in September) and then help put the boat to bed.
Front Desk Sales & Marketing Staff Required Availability:
Front desk staff work morning, mid day and closing shifts. Front desk staff usually work 4-5  shifts/week. We hire front desk staff for both the entire season as well as students returning to school,  however if you're leaving early you should be able to commit to working at least through Labor Day.  Students returning to college in the area who are available to work a couple shifts once school starts, or help out with office work over the winter are a big help!
Appearance & Dress Code:
Bowen's Wharf is a highly visible, upscale area with many high caliber restaurants and  merchants.  Our Appearance and Dress Code standards are similar to many service oriented businesses. They have been established to present the image of a friendly, professional and hospitality oriented staff.
Appearance Code: We love you for your energetic and unique personality, however no Mohawks, multicolored hair,  lip jewelry, giant nose rings, ear gauges, etc. You get the idea.
Dress Code: We have a basic dress code for captains, crew and front desk described in more detail in our Employee Manual.
Interview & Application Process:
We accept applications for our sailing jobs year round. After you submit your application, we will review it. If we're interested in you we will contact you to arrange an interview. A Skype or in-person interview is required for all positions. Feel free to rattle our cage if you think you're perfect for the position and we haven't contacted you. We're human and sometimes things fall through the cracks!
To Apply for our Sailing Jobs:
Job Descriptions and Online Applications for Front Desk, Captains and Crew are in their respective sections below.  Crew, captains and front desk applicants should complete an online application.  Management and office positions should submit a resume in addition to the Front Desk Application.